Wine varieties, terroirs and a little geology
Our region has a typical Mediterranean climate with its excesses, long periods of drought, storms and strong winds, with rainfall fluctuating between 500 and 750 mm per year. The Saint-Chinian appellation, created in 1982, incorporates 20 villages located around Saint-Chinian : there is no homogeneity in the terroirs of this appellation, which includes the ancient land on the Cevennes border and the more recent limestone and clay. In short, there is schist in the north, and clay, limestone and sandstone in the south… We are in the south.
At an altitude between 210 and 300 m, the vineyards are today made up of 16 ha interspersed with scrubland, pine forests and olive trees, clinging to the slopes of a valley, or exposed to the sun and winds of a limestone plateau. The very complex geology of the Saint-Chinian range is present on the estate, where there is a mosaic of different terroirs and exceptional landscapes shaped by previous generations and passionately maintained today.
"Our different cuvées reflect these distinctive terroirs with their Mediterranean influences."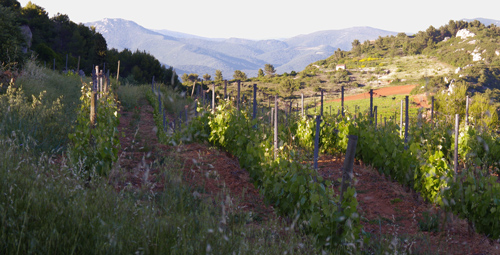 Our grape varieties
Red AOC
Syrah-Grenache : with different styles depending on the terroirs.
Mourvèdre : a late variety which matures slowly, and which occupies a large part of the estate where it is planted on south-easterly facing terraces, created on steep slopes. 13 to 30-year-old vines.
Cinsault : delicate and round, pleasing both in Reds and Rosés.
Carignan : fruity and very delicate when grown on limestone, more lively on clay. 60 to 110-year-old vines.
Red PGI*
Cabernet Franc : planted in 1988 and in 2014 in the deeper and cooler Triassic soils, where almost every year it finds the humidity necessary for its balance.
White AOC
In 1993, curiosity led us to plant many grape varieties together on a limestone plateau :
White Grenache, Roussanne, Marsanne, Viognier.
Clairette : since 2010 it has swelled the ranks of the late varieties.
White PGI
In 2010, on a very beautiful limestone terroir, we bought a vine well over one hundred-years-old, which was about to be pulled out: evidence of the Languedoc's wine growing past at its best, co-planted with many other varieties including Terret.
Terret : late maturing and very resistant to drought, old goblet trained vines.
Grey Grenache : lively and mineral. Languedoc wine varieties planted in AOC terroir.
Planting density of the vineyard: 3500/5000 vine stocks
Pruning method: Goblet – Cordon de Royat.
* PGI : protected geographical indication
Terroirs
At the foot of rocky cliffs, clay and limestone hillsides, red-ochre soil and steep slopes. Mourvèdre is planted in terraces here. Grenache, Carignan and Cinsault of the Côte d'Arbo cuvée cling to the hillsides.

Limestone plateaux and stony soils, the favourite terroirs of Syrah, Grenache and Carignan, whose qualities are expressed here with great finesse. The vines are deeply rooted and withstand drought well. Our white grape varieties are also found here.
In the valley, there are different types of soil, including the specific and later terroir of variegated marl which adds freshness to the wines. Syrah vines are planted on the lower slopes (Côte d'Arbo cuvée). Cabernet Franc is planted in the deeper soils with PGI classification.

Further information : a little geology
For the enthusiasts, here is a little glimpse of the geological map with a cross-section of the "Saint-Chinian range" well-known to geologists and students for its complexity!
( C7e / C7c / T-trias / T10 / L2)


"The limestone cliffs and the marls of the Maastrichtian age of the Cretaceous period run alongside the dolomites of the early Jurassic period (Hettangian) and the variegated marl of the Triassic. The whole of the Triassic, and more particularly the very malleable late Triassic clay, acted as a point of décollement (area of slippage) during the tangential tectonics of the Saint-Chinian range, often coming into contact with unnatural bedfellows!"
*Graphic art department of the B.R.G.M (Bureau for Geological and Mining Research)

"There, now you understand the diversity of Saint Chinian!"